GROUND PENETRATING RADAR
Ground Penetrating Radar (GPR) provides exceptional benefits to the construction industry. It is a fast and accurate way to locate targets and anomalies within concrete.
With our extensive experience using GPR to locate tendons, reinforcing, services and internal features within concrete, reduces the risk to the buildings structural integrity and increases onsite safety.
Australian Concrete X-Ray uses GSSI equipment, the world's leading ground penetrating radar concrete testing system, with unrivalled resolution battery powered for safety and speed. GSSI antennas feature the highest signal-to-noise ratio of any antenna available in the industry, providing the highest quality data with clear and accurate results.
We possess a wide range of antennas to meet the need of a broad range of applications. ACX has the ability to scan concrete/rock 1m thick and soil to 9m.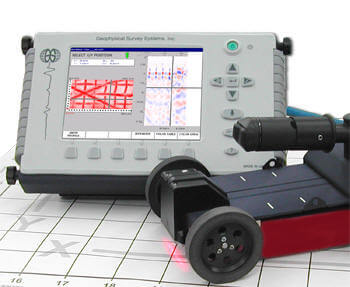 Key Benefits of GPR:
Faster and Safer than radiography
Locates targets to a depth of 1m in concrete (Not possible with radiography)
Locates targets to a depth of 9m in soil
Non Destructive Testing
Risk Reduction
Cost Reduction GPR, Ground penetrating radar, concrete scanning, GSSI
Australian Concrete X-Ray uses Ground Penetrating Radar to identify:
Reinforcement detail including; concrete strength, delamination, cover & bar size
Concrete thickness
Live power cables and conduits
Voids
Utilities – Water, pipes, sewer , storm drains, gas, power & communication services
Building specifications for additional and proposed development of existing building structures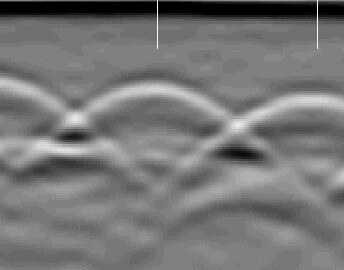 Advances in geotechnical radar data collection and interpretation has led to the development of multiple techniques used for structural mapping of concrete. The 2D Linescan allows the trained GPR technician to quickly locate and identify metal and non-metal targets hidden within concrete.
This includes pinpointing the location and depth of rebar, conduits and post-tensioned cables, as well as providing the concrete thickness. For a comprehesive analysis of target geometrical shape and spatial relationship to other objects, 3D would be the preferred technique. 3D scanning requires more data collection then 2D Linescan but provides users with a 3D image that is easily interpreted. The 3D image can be displayed as a Depth Slice or in a 3D Quickdraw mode that allows the user to view the mapped site from all perspectives.